Step 1: Create a SAML application within your Identity Provider.
Microsoft Azure SAML Setup
Login to your Azure Portal at

https://portal.azure.com/

Browse to Azure Active Directory
Click Enterprise Applications → New Application → Create your own application
Give it a name to match the MasterLibrary product and select "Integrate any other application you don't find in the gallery (Non-gallery)"
Click "Single sign-on" and then select "SAML"
Basic SAML Configuration

Identifier (Entity ID)

Enter a unique name that corresponds to the MasterLibrary product

Reply URL (Assertion Consumer Service URL)

https://XXXXX.mlschedules.com/MLSAMLConnect.aspx


Replace "XXXXX" with your custom MasterLibrary subdomain

Attributes & Claims

You will map 3 new additional attributes via "Add Claim" here, and they need to match exactly as entered here

Add a group claim

This is where you will select the Groups you want to pass through to automatically assign Role(s) to the Users within MasterLibrary. This is optional but a nice way to give Users some default roles and capabilities, especially if you segment within Groups in Azure already.
You can select "All Groups" or select specific ones if you'd prefer
The source attribute is "Group ID"
Under Advanced Options select "Customize the name of the group claim" with a Name of "Group"


Note: if your group limit exceeds 150, please use the option "Groups assigned to the application"

SAML Certificates

Click edit to pop the sidebar and then click the dots next to the Active certificate and select "Base64 certificate download"

This will download a file you will need to open for Step 2 below within MasterLibrary

Click "Assign users and groups" to grant access to this application to a subset of your Users
Step 2: Configure your Identity Provider within MasterLibrary Software.
Once you log in to your MasterLibrary product you will navigate to Settings → Single Sign On → SAML Configuration. From there you will configure your provider by:
Update the Issuer to contain the URL for your Provider from "Microsoft Entra Identifier" in Step 4.
For Azure: Copy the "User access URL" under the Properties menu and enter it in the Login Link field.




Copy/paste the Certificate you generated in your Provider configuration in Step 1.

Remove the "BEGIN" and "END" lines if they were copied in.

Click Save


Step 3: Set default Roles for Users who login via SAML.
Once you log in to your MasterLibrary product you will navigate to Admin → Single Sign On → SAML Group Settings. From there, you will configure the SAML Groups you indicated in Step 1 and what default set of Roles you want to give to Users within that Group.
*Passing "Group" is required, but using Groups to actually give default Roles is not.*
Note: You can create as many SAML Groups as you'd like, and each time a User logs in they will get whatever Roles you indicate on all of the Groups they are a part of. You can also manage additional Roles within MasterLibrary as usual, but you can not remove these default ones so make sure they apply to all users within the group.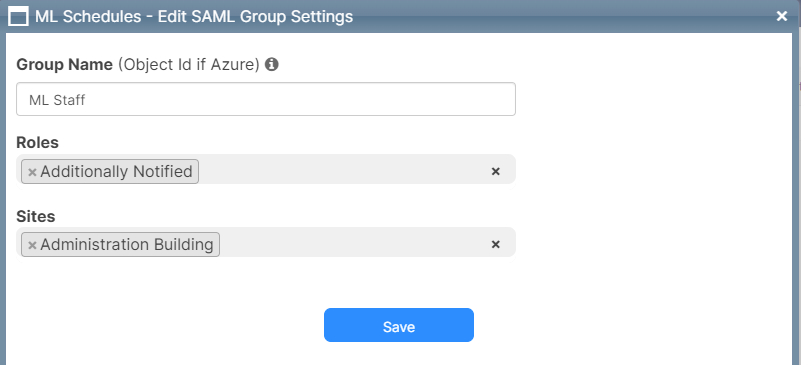 For Azure: Group Name field will be the Object ID for each group established in Step 1