Note: This is not the same thing as the replace user feature in the system. This is going to copy all info from one user and add it to another without removing it from the original user.
Admin users can do this from the manage users page.

1. Select Users > Manage Users from the left-side toolbar.
2. Click Actions > Copy User.

3. Pick the user you're copying from and the user you would like to receive the same thing.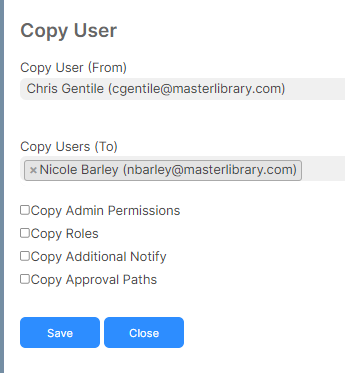 4. Choose what information you wanted copied over.
Admin Permissions: Copies the admin permissions under the permission tab.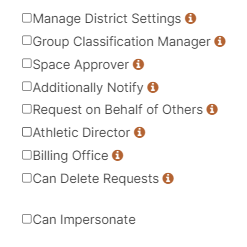 Copy Roles: Copies all of the roles under the first user's role Tab.

Copy Additional Notify: Copies all of the notification areas the first user is set up on, which can be found under the notifications tab.

Copy Approval Paths: Will take the first User's approval paths and put the second user on the same step. This can also be found under the notifications tab.