ML Schedules™ Software allows District Admins to access iCAL URL's for all Sites and Spaces within the system.

The one-way integration allows you to display ML Schedules™ events on your Google Calendar by adding iCAL links (found in Site and Space settings).
Note: This option does not display your Google Calendar events back in ML Schedules (See Google Calendar Integration for more information on how to set up a two-way integration).
Step 1: In Locations > Manage Sites or Manage Spaces (depending on if you want a whole Site or just a specific Space's events), find the Site or Space you would like to set up in Google Calendar.

Step 2: Click on the Calendar icon next to the space.

Step 3: Copy the Link
Step 4: Open up Google Calendar and click the plus icon to the left hand side of the screen, next to "Add coworker's calendar" (hover text will say "Add other calendars").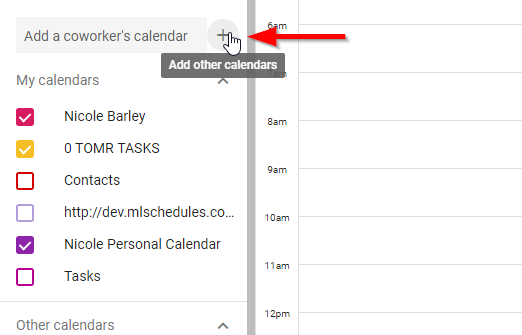 Step 5: Select option "From URL", enter in copied link address and click Add Calendar.

ML Schedules™ events will now show on your Google Calendar and will update daily.
Example of event from ML Schedules™ on Google Calendar: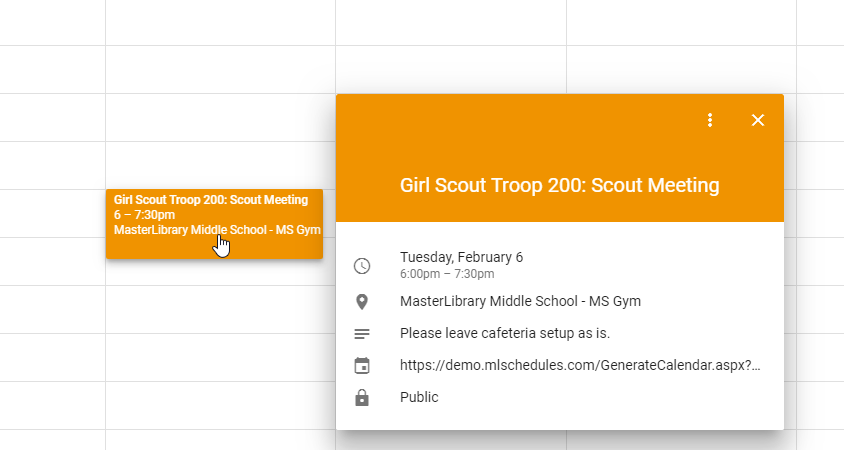 To generate a District Wide iCAL use the following format "https:///GenerateCalendar.aspx".
For example: If your site URL is https://ak1.mlschedules.com your District Wide iCAL would be "https://ak1.mlschedules.com/GenerateCalendar.aspx".
Important Note: Please be aware events can take up to 24 hours to sync. iCal includes events 30 days in the past and future.