ML Schedules™ K12 Facility Request Software provides District Admin with the ability to setup one of two different types of Space usage fees:
Flat Rate Space Fees Per Event or
Per Hour Space Fees.
Usage fees can be set differently for weekdays, Saturdays and Sundays for both flat and hourly rate types.
These rate types and associated fees can be entered:
During the Setup Space procedure, or
Using the Edit Space command.
Both procedures are described below.
---

Procedure
1. Select Locations > Manage Spaces.
The Manage My Spaces screen will be displayed.

2. To add rates to a new Space, select the Add Space button.
3. To add rates to an existing Space, select the Edit Icon (

).
Selecting either option will display the Space Details screen, which contains a section where different rate options can be selected as shown below.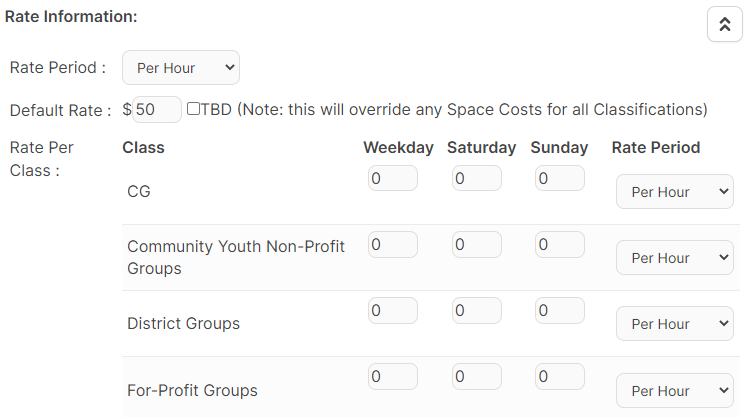 3. Select the space's appropriate Rate Period from the drop-down menu:
Per Event is a one-time flat fee regardless of event duration.
Go to step 4.
Per Hour is an hourly rate based on event duration.
Go to step 5.
If your district uses Classifications, go to step 5.
4. If you district does not use Classifications, enter a numeric dollar amount in the Default Rate field or check the TBD box. The amount entered will be applied on a flat or hourly basis to space requests based on the setting selected in step 3.
Note: If your district does not use Group Classifications, it cannot set default usage rates for weekdays, Saturdays and Sundays. Only one default usage rate can be entered.
5. Enter your highest Classification fee amount in the default rate field.
6. Enter the Rate Per Classification Per Hour (based on Weekday/Saturday/Sunday rates) for all Group Classifications in your district.
7. Select the Save button at the bottom of the Space Details page.
The information entered will be saved and applied to all future Requests for this space.