ML Schedules™ Software offers school districts the following options relative to how much is charged for Facility Use:
Charge the same fees for all groups or;

Charge different fees based on Group Classifications.

Charge different fees based on Weekday/Saturday/Sunday rates.

Charge a per hour or per event rate.
District Admin are able to set up the facility usage fees based on Group Classification—if this optional feature is used—by editing the settings for each space.
1) Select Locations Manage Spaces to display the Manage Spaces screen.

2) Select the Edit (

) icon next to the existing Space name.
3) Enter the Rate Period, either Per Hour or Per Event.
4) Make sure the Default Rate field is the highest-cost usage fee charged to external (community) groups. Also ensure the TBD box is unchecked.
5) Enter the facility use fees for each Classification based on the Weekday/Saturday/Sunday rate in the provided fields.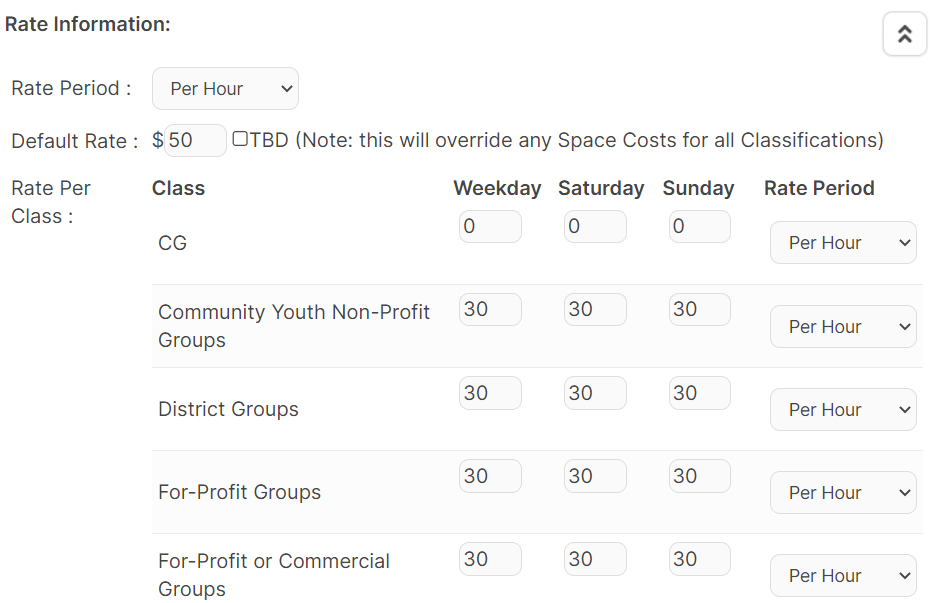 Important! Admins must enter a value for all Classifications available to district users even if the value is zero (0).
6) Select the Save button.
7) Repeat steps 1 – 5 for each of the remaining spaces.