ML Schedules™ K12 Facility Request Software provides Group Managers with the ability to add Additional Contacts to their group. These Additional Contacts do not have to have ML Schedules™ Software accounts as they will only be receiving emails with status updates about Requests or approved events relating to the Group.
These Additional Contacts will be notified regarding the status of specific Requests and approved Events relating to their Group(s). These contacts will be notified whether the Request has been Approved, Declined, Put on Hold, Edited or even Canceled at any point.
This feature allows one person in an organization to submit Requests on behalf of Groups within that organization with Additional Contacts for each Group being notified as the Request goes through the approval process.
Add Additional Contacts to an Existing Group
1. Log Into ML Schedules.


2. Select your name at the top right of the page, and click Profile.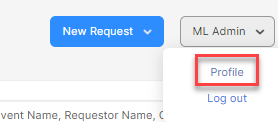 3. Click the

button next to the group name

4. Scroll down to the bottom and click the Add Contact to Group button.
The Manage Group Contacts screen will be displayed.
5. Complete the Manage Group Contacts screen with the Name, Email and Phone Number of the person you would like to add as a Group Contact.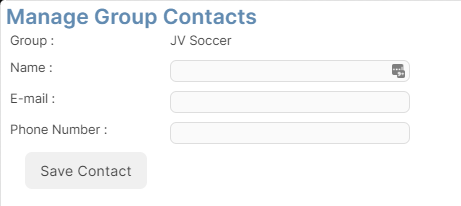 ML Schedules™ Software's Manage Group Contacts screen
6. Click the Save Contact button.
ML Schedules™ Software district users will now have the option to notify your additional Group Contact regarding the status of your Groups Requests and Approved Events.